A report by Clario's blog:  which companies track our personal data the most?
Read below the most interesting findings of this analysis.
What data can companies actually collect?
The kind of data companies can collect ranges from the things you might expect – like your name, date of birth and email address – to the more obscure, like your pets, hobbies, height, weight and even what you like to get up to in the bedroom. They can also store your bank information, as well as links to your social media accounts and the data you share on them.
What they do with that data will differ depending on what kind of business they are, but often it will result in targeted advertising and website management.
Who collects the most data?
The   table  below reveals the top brands who track us the most!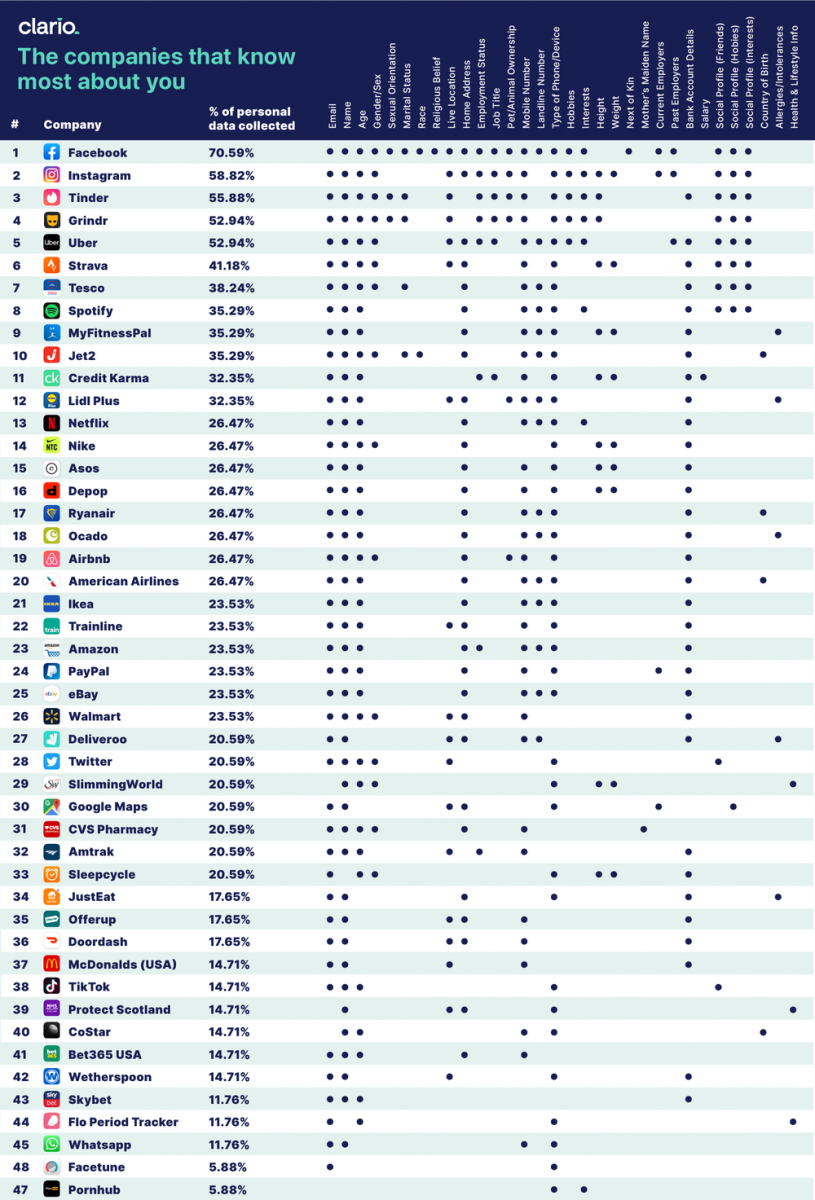 Social media collects more data than anybody else
Top of the list for data collectors is, perhaps unsurprisingly, Facebook. As a social network, they depend on you giving them access to all your details so they can recommend friends to you, let people know it's your birthday, suggest groups for you to join and, most importantly, advertise to you.
Ads are how Facebook makes the most of their money – around $16.6 billion to be precise, based on their 2018 reports – so the more they know about you, the more they can sell on. As well as the usual, such as your name, location, email address and date of birth, they also collect a whole load of things you might not be aware you gave away.
In fact, out of all the data a business can legally collect about you, Facebook collects 70.59%.
Instagram comes next in the list. The Facebook-owned app collects 58.82% of all available data, such as your hobbies, height, weight and sexual orientation. Like their owners, they use most of this information for advertising and recommending accounts you should follow.
Tinder uses your height, weight and PETS to get you dates
Dating app Tinder collects 55.88% of available data to help match you with your perfect partner. As well as knowing about your age, sexual orientation, height, interests and if you own a pet! It also stores your bank details, making it easier to upsell you its premium option. Tinder Plus gives you unlimited likes, and the chance to swipe back just in case you've missed the love of your life.
However, beyond trying to get you coupled up, Tinder also tracks how you use different social media platforms if you link your accounts. It also stores all the messages you send to matches, meaning all your flirty chats can be used to target you with advertisements and products.
If you see an ad for a very niche kind of toy pop up, now you know why.
Grindr collects almost as much information, with 52.94% being stored as you look for love.
Retailers like Amazon use the LEAST amount of data to target you
Despite being the biggest online retailer in the world, (and spending around $11 billion on advertising in 2019,) Amazon only collects a fraction of data compared to other businesses, 23.53%.
Beyond the obvious things, like your name, email address,  home address and bank details, it collects little else other than what it needs to run its business.
What it does do is track how you use its site. It monitors the products you look at, the things you buy and the reviews you leave, helping it promote new products to you that match your interests.
General retail came lowest on our list of data-loving companies. IKEA (23.53%), Nike (26.47%) and Depop (26.47) all store your name, email address and home address, along with your bank details to make online purchases easier, but only Nike and Depop store your height and weight to help them target you with more appropriate clothes.
Spotify uses your social media, interests & playlists to decide what you should listen to
Music streaming site, Spotify, collects 35.29% of your data, tapping into your social media profiles to understand your interests and hobbies. If you've ever been to a gig and shared a photo of it on Instagram, just to find that band in your Spotify recommendations, now you know why.
They also track the music you listen to, enabling them to create playlists based on the kind of thing you like. The end of year roundups they do include all the songs you've been listening to, and let you look back on the last 12 months of hits (and occasional misses).
Likewise, Netflix tracks the kind of shows you watch so it can recommend similar titles. It gives programmes a match rating, letting you see how likely you are to enjoy them depending on what you've seen before. The data it gathers is designed to give you a better user experience, meaning you'll keep coming back again and again to see more of the shows it's found for you.
Spotify and Netflix are good examples of data collection that people don't mind. As with most sites, they use the information they learn about you to make your experience better, tailoring the platform to suit your needs.
93% of companies will store your email address
Of the companies we asked, 93.75% of them will request and store your email address to be used to stay in touch or for future marketing. An email address is the basic data a company will request from you – any brand you've signed up for, any social media you're connected to, or any shop you've bought from will have it on file.
They might never use it, or they might use it to send you weekly emails that you'll either find really interesting or send straight to your junk mail.
18% of companies know how much you weigh
A question you should never ask on a date is one 18.75% of businesses will ask when you first sign up. Brands such as Slimming World, Strava and Nike all want to know it for obvious reasons, but why Credit Karma and Instagram ask for it is anyone's guess.
To read the full article click here