Norwegian research on Grindr, OkCupid and Tinder app raises questions about whether certain ways of sharing of information violate data privacy laws in Europe and the United States.
Popular dating services like Grindr, OkCupid and Tinder are spreading user information like dating choices and precise location to advertising and marketing companies in ways that may violate privacy laws, according to a new report that examined some of the world's most downloaded Android apps.

Grindr, the world's most popular gay dating app, transmitted user-tracking codes and the app's name to more than a dozen companies, essentially tagging individuals with their sexual orientation, according to the report, which was released Tuesday by the Norwegian Consumer Council, a government-funded nonprofit organization in Oslo.
Grindr also sent a user's location to multiple companies, which may then share that data with many other businesses, the report said. When The New York Times tested Grindr's Android app, it shared precise latitude and longitude information with five companies.
The researchers also reported that the OkCupid app sent a user's ethnicity and answers to personal profile questions — like "Have you used psychedelic drugs?" — to a firm that helps companies tailor marketing messages to users. The Times found that the OkCupid site had recently posted a list of more than 300 advertising and analytics "partners" with which it may share users' information.
"Any consumer with an average number of apps on their phone — anywhere between 40 and 80 apps — will have their data shared with hundreds or perhaps thousands of actors online," said Finn Myrstad, the digital policy director for the Norwegian Consumer Council, who oversaw the report.
For the report, the Norwegian Consumer Council hired Mnemonic, a cybersecurity firm in Oslo, to examine how ad tech software extracted user data from 10 popular Android apps. The findings suggest that some companies treat intimate information, like gender preference or drug habits, no differently from more innocuous information, like favorite foods.
Among other things, the researchers found that Tinder sent a user's gender and the gender the user was looking to date to two marketing firms.The researchers did not test iPhone apps. Settings on both Android phones and iPhones enable users to limit ad tracking.The group's findings illustrate how challenging it would be for even the most intrepid consumers to track and hinder the spread of their personal information.
See the image  below that visualizes the results of the report.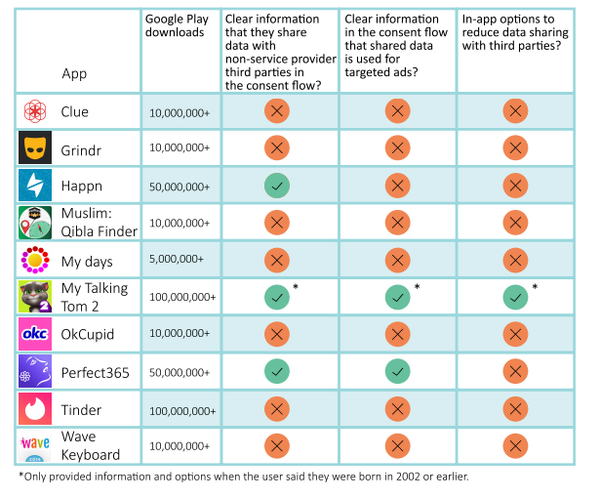 Read the full article from here.